The 2023 Subaru Love Promise Community Commitment Award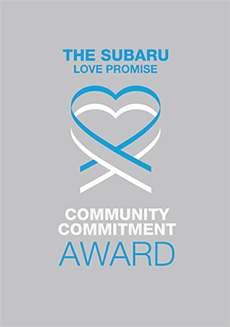 We've been nationally recognized for our dedication to our community and the Subaru Love Promise.
We're honored to receive the 2023 Subaru Love Promise Community Commitment Award. This award nationally recognizes Subaru retailers who are making the world a better place while demonstrating an outstanding commitment to supporting passions and causes in local communities. These efforts are focused in important areas such as the environment, community, health, education, and pets.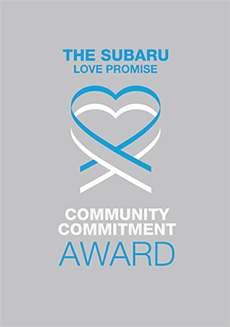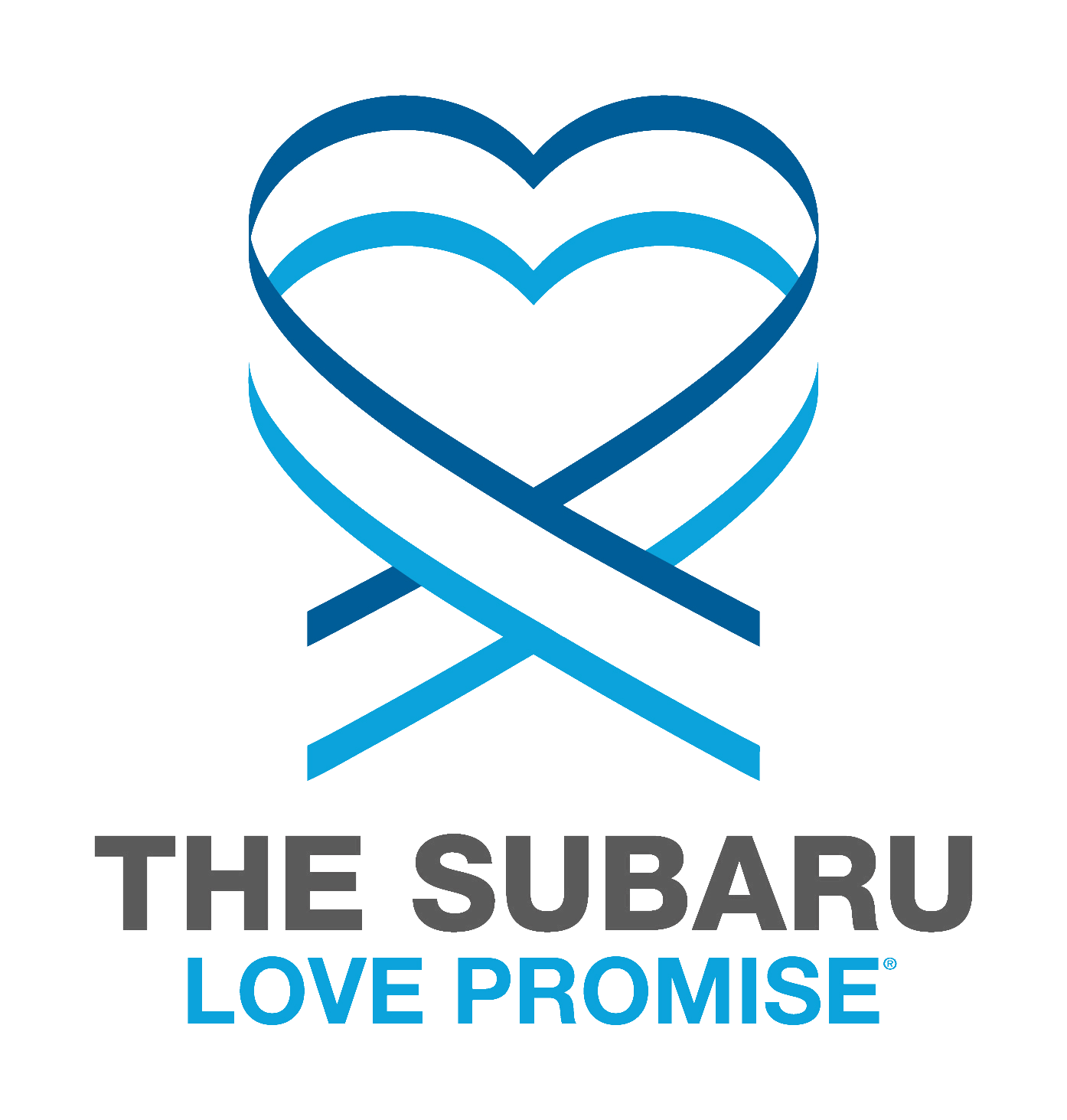 What is the Subaru Love Promise?
Subaru and our retailers believe in making the world a better place and the Subaru Love Promise is our vision of respecting all people. This is our commitment to show love and respect to our customers and to work to make a positive impact in the world.
How is Seventy-Seven Subaru dedicated locally to the Love Promise?
Our Love Promise can be seen in various partnerships with local charities and non-profits. We're grateful for the opportunity, not only to be a part of our community, but to serve it as well.
Humane Society of the White Mountains
Nikolaus Homestead Elementary School
Summit Healthcare Cancer Center
Love Promise Stories from Seventy-Seven Subaru
Subaru and Seventy-Seven Subaru believe in making a positive impact on the communities in which we live and work. We uphold that belief through our Love Promise Community Commitment. Every month, we select inspiring stories from customers and partners from around our area who strive to support our collective commitment and feature them here
Subaru helping save lives - Brandon T
This donations from 77 Subaru is a huge blessing to Living Hope as it will go toward helping mothers and families choose life for their unborn babies as well as equipping families with knowledge and supplies that are needed to be a loving, thriving family, to the Glory of God. This donation also helps us keep our Hope House open and available for those women who are pregnant and homeless. We and our community cannot thank 77 Subaru enough for partnering with us and helping us save the lives of the unborn but also providing safe housing for women in desperation.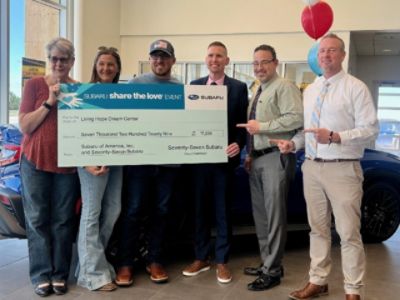 ---
Best Prom Ever at Seventy Seven Subaru!!! - Robert M
We would like to take this opportunity to thank you for allowing us to use your new facility, Seventy-Seven Subaru, for our Prom location on May 21, 2022. Our theme of "Enchanted Forest" came together perfectly with the use of your building. We were welcomed into your facility and treated with amazing kindness beyond our expectations as we set up our decorations and prepared for the dance. We could not have asked for a better venue for our dance, as the area provided us with everything we needed from the dance floor, DJ area, restrooms, refreshment area and picture backdrop set up as well as plenty of student parking. You employees went above and beyond to make sure we had everything we needed and even offered helping hands with set up. Our Chaperones were able to monitor each area with simplicity and the students were able to enjoy the flow of the venue moving from dance area to refreshment area with ease as we had 342 students attend this dance. We would also like to thank you for waiving the rental fee for use of your facility. Donating the use of the building allowed us to be more profitable with our dance ticket sales as Prom is a fundraising event for our Student Council. Saving this money allowed us to put these fundraising efforts back into our "Graduation Night" event by purchasing more prizes for our end of year celebration for the graduating class of 2022. We appreciate the professionalism, kindness and trust of allowing us to use your facility and hope to work together in the future as a potential host for other events. Thank you for being an active part of our community and having a positive impact on our schools.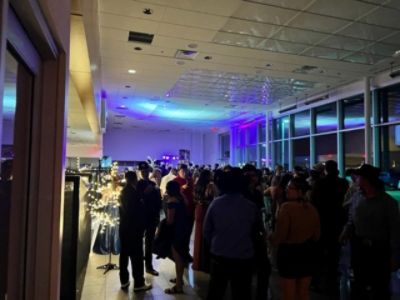 ---
Supporting Subaru Loves to Care!!! - Robert M
Seventy Seven Subaru supports the Subaru Loves to Care event by delivering blankets to the Summit Healthcare Cancer Center in Show Low. We were able to lift the spirits of the patients and staff with the warm blankets. We enjoyed spending time at the center learning how they support their patients and seeing the impact it has on them. Thank you Summit Healthcare!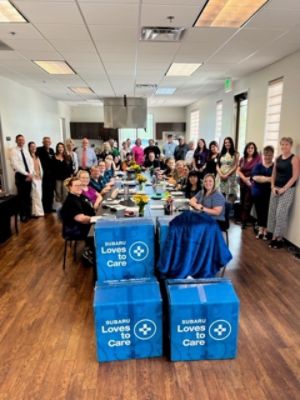 ---
What a wild day of window shopping ! - Patty H
We began our day- Wednesday, November 16, 2022- by the two of us (me and my husband) getting into our own vehicles (my 2013 Mercedes GLK 350 and his Ford F-150 truck) to drive from Taylor AZ where we now live to Show Low AZ, to the Ford dealership. He had to leave his truck there overnight so they could diagnose why it clattered when he started it in the morning- really very noisy! I waited outside in the parking lot for him, and when he was done, we drove over to 77 Subaru- the Subaru dealership in the Northern Arizona Auto Mall. I had been talking to him about the fact that my Mercedes was going to be due for service when we returned from Tucson the end of March (we go there January 1) and I did not know where I would take it but did know it would be a minimum $500 cost for the scheduled service, if not more. I was NOT looking forward to it and had a feeling I would have to take the car to either Phoenix or Tucson to get it serviced (minimum 4-1/2 hours one way to either place- yuck!) Turns out West Scottsdale is where it would have to go, and that I definitely did not like! We parked my car and went into the dealership and were immediately greeted by a salesperson (Catherine Wingate)- with a smile on her face, asking if she could help us. My husband immediately told her he did not need help- this was my thing- and yes, I needed help. He went to find something to do, and I talked with Catherine about looking at vehicles and possibly test driving one or two. And thus, the experience at 77 Subaru began! I told her I had owned two Subarus (hatchback and Legacy) and really liked the cars, but I needed something that did not use premium gas, and that didn't cost both arms and legs to be serviced. She retrieved keys for three vehicles, and we went outside to look at what was on the lot. I test-drove two of the cars, an Outback and a Forester. They were both good vehicles- rode well, felt good, enough space- but were not what I was really looking for. We looked inside another Outback, but it was used with more miles than I wanted to buy. We went back in the showroom, and I asked her about an Outback on the floor, a service vehicle, but it was not for sale. I asked if I could still look at it, and we both got in. And it was exactly what I was looking for. In the meantime, my husband had found someone to talk with- Michael, the General Manager- and when saw them I thought Michael was one of my husband's golfing buddies! I asked who he was- he already knew who I was! And from that point on the visit became one of learning about the dealership, talking with and listening to Michael as he helped us, and then finding out that a vehicle was to be delivered next week that was the same as the one on the floor- and it could be mine. So I went for it. I met the Service Manager, my permanent service advisor (Danielle), the financial person, received help on the service agreement (I asked Michael was everyone being truthful about what a good deal it was- and they all said yes, unilaterally!)- and so I purchased the full plan. And we financed with the bank they use- which is also the bank we opened an account with. EVERYONE I met and talked with was absolutely great- and Michael was the best of all. Both my husband and I agreed that we have never felt so welcomed at any car dealership- no pressure to buy, just there to help by answering questions and giving information- and I am SO glad we can call this dealership our car's home base. It was today, and will be for the life of my car, a pleasure doing business with and visiting 77 Subaru in the future, thanks to Michael, Catherine, and the rest of the people at the dealership!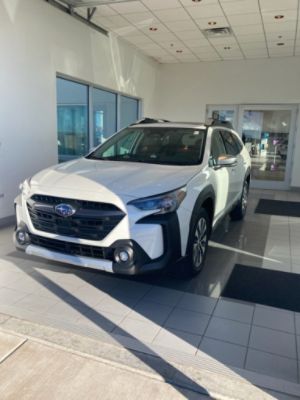 ---